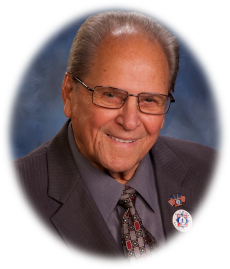 Babe Ruth League bids farewell to a legend, Raymond A. Lotierzo, who passed away on Wednesday, May 17, 2017. 
Ray Lotierzo had two loves in his life - his family and Babe Ruth League. And the two were intimately intertwined.  Ray was a fixture at the ballpark, first as a father and baseball coach for his sons, and then later just because Babe Ruth League was a part of who he was.  He truly enjoyed watching youngsters play the game and have fun.
Ray began his affiliation with Babe Ruth League in 1965, serving at the local league level as a coach, manager, League Treasurer and League President.  After leaving the local league level, he held the positions of District Commissioner, Assistant State Commissioner and State Commissioner for the Southern New Jersey Babe Ruth Leagues.  From 1996 to his untimely passing, Ray served as the Middle Atlantic Regional Commissioner and a member of the International Board of Directors of Babe Ruth League, Inc. "Ray had been involved with our program for over 50 years." President/CEO Steven Tellefsen stated. "His dedication has helped enrich the experience of many Babe Ruth participants."
Ray Lotierzo was an amazing and caring individual, and one of those volunteers who stood head and shoulders above the rest. He was a strong supporter of youth sports and of providing kids with many valuable life lessons. He loved watching the kids develop into real, true citizens.  Many of the kids Ray coached are now coaches. To see the success they have and the way they teach the game made Ray very proud.
Predeceased by his wife Barbara and sons Keith and Larry, Ray is survived by his children Raymond  Jr., Stewart, Francis and Michael Lotierzo, 13 grandchildren and 17 great grandchildren.
Babe Ruth League is extremely fortunate to have had Ray Lotierzo a member of its team.  He was a hard-working, tireless volunteer who gave so much back to the Babe Ruth League community.  His memory will live on in all of us.  Ray Lotierzo was Babe Ruth Royalty and is truly a Legend.