In August 2018, Jamestown will host its 19th World Series.  All games will be played at Russell E. Diethrick Park, August 4-11.
Russell E. Diethrick Jr. Park is located on Jamestown Community College's campus and serves as home of the Jayhawk baseball team.  The municipally owned and operated baseball stadium began its life in 1941 as home of one of the six original teams in the New York-Penn League baseball organization that formed in 1939. Today Diethrick Park serves as the home of the Jamestown Community College and the Jamestown High School Red Raiders. The 4,200-seat facility has undergone a series of renovations since 1984 and is a source of pride and pleasure for the community. This stadium has been the site of every single Babe Ruth World Series hosted in Jamestown.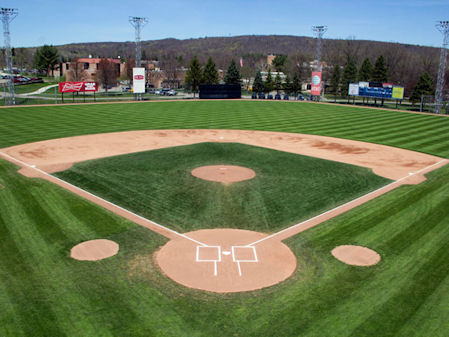 Jamestown is located in the southwestern corner of New York State at the base of picturesque Chautauqua Lake and provides a myriad of social and cultural opportunities.  The area is also blessed with an abundance of outstanding outdoor recreational opportunities, including hunting, fishing, boating and camping, and within a few minutes of Allegheny State Park, Long Point State Park and Midway State Park.
The National Comedy Center is scheduled to open during the summer of 2018, and will be the first non-profit cultural institution and national-scale visitor experience dedicated to comedy, featuring more than 70 exhibits on comedy.  The Center will celebrate comedy in all of its forms, educating and engendering in visitors an appreciation for the art form and its artists.  Visitors will be able to chuckle along to the jokes of deceased humor legends in a hologram comedy club.  Design of the immersive experience has been provided by some of the most prominent cultural and interactive design firms in the world, whose portfolios collectively include the 9/11 Memorial Museum, the National Underground Railroad Freedom Center, the College Football Hall of Fame, SNL: The Experience, Universal Studios, and more.
Jamestown, being the birthplace of Lucille Ball, is already home to the Lucille Ball/Desi Arnaz Center, including a museum, gift center and original stages from the television series "I Love Lucy."  Also, to be found in the downtown area is the Reg Lenna Center for the Arts, a 1,250 seat, beautifully restored former vaudeville house offering a variety of musical, theatre and community events.