For more than 20 years, Chris Drury couldn't escape being Chris Drury.  The spotlight shined on him during his days playing baseball for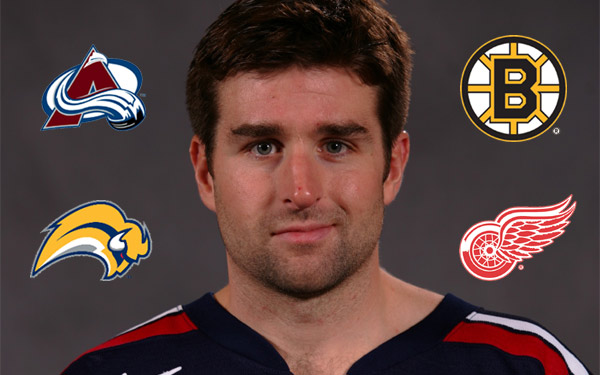 the Trumbull, Connecticut Babe Ruth League.  It followed him to college, the NHL and the Olympics.  It accompanied him to the mall, the airport and the grocery store.
When his hockey career ended in 2011, Drury finally found the escape hatch. He issued his retirement through a press release and disappeared. Even his best friends couldn't find him for months at a time. They'd hear whispers that he was around; only to find out he was long gone. 
"You know, I needed it," Drury said. "It was a long career and kind of being somewhat in the spotlight since I was 12 years old. It was a much-needed break and escape from it. I just really wanted to have my time and my focus and my energy on my family."  For four years, Drury was simply a father and husband who occasionally made pizzas on the side.
"For me, there was so much focus on my schedule, my routine, and all the little nuances of a season: eat at this time, sleep at this time," Drury said. "At the end it was so focused on that that I felt bad. Having three kids, the focus had to get off my day-to-day preparations. The focus had to be on their life.  "It was a good time, and it was time well-spent. And I'll never get it back, right? They're only that age once."
The family – wife Rory, son Luke and daughters Dylan and Kelly – returned their focus to Drury. They celebrated alongside him as he was inducted into the U.S. Hockey Hall of Fame in 2015.  "There are so many deserving players before me, and to be side by side with them now is a huge thrill," Drury said at the ceremony in Boston's Seaport District. "The game was so fun and so good to me."
Drury left a legacy of pride, determination and winning at nearly all of his hockey stops. He represented the United States at eight major international events, including the 2002, 2006 and 2010 Winter Olympics. He helped the Americans earn silver medals in 2002 and 2010.
The Connecticut native is the only person to win the Hobey Baker Award as college hockey's best player (Boston University, 1998) and follow it up with the Calder Trophy as the NHL's top rookie (Colorado, 1999). He helped the Avalanche win the Stanley Cup in 2001 while scoring 11 goals in 23 postseason games.
He arrived in Buffalo via trade during the summer of 2003. His life changed. So did the Sabres. "To say it was a special time would be an understatement," Drury said.
The Sabres had just emerged from a loss-laden bankruptcy. He teamed with Daniel Briere to transform the team into a contender that captured the attention and hearts of Western New York sports fans. Buffalo reached back-to-back Eastern Conference finals in 2006 and 2007.
"Coming where we came from in the back of the pack with a whole new roster to the lockout year to the Presidents' Trophy was just a terrific ride," Drury said.
He played 234 regular-season games during his three seasons in Buffalo, recording 85 goals, 104 assists and 189 points. He led the team during his stay with 38 power-play goals, six short-handed tallies and 16 game-winners. He added 17 goals, 31 points and four game-winners during 34 playoff games.
"I'm the first one to admit that he taught me a lot," Briere, who shared co-captaincy honors with Drury, said during the Sabres' visit to Philadelphia this season. "I learned how to become a pro. I learned from him how to take my game to the next level, how to be a guy that wanted to make a difference."
Drury spent his final four seasons with the New York Rangers before retiring because of a knee injury. He finished his NHL career with 255 goals and 615 points in 892 games, plus 47 goals (including 17 game-winners) and 89 points in 135 playoff appearances.
The numbers pale in comparison to the experiences.
"Just the friendships I made and the bond you have throughout a season and a career with players that I still see to this day, that's what I remember and what's always so special to me," Drury said.
Drury reflected on his start and how much his family influenced him.  "I remember having double runners on and not wanting to come off the ice and the ponds in Trumbull, Connecticut," he said. "I was so lucky to have two older brothers before me, and I think even if I did want to come home they weren't letting me. There was nowhere else that we would go in the winter. That was our spot, a winterland of ice, and it just became our home away from home."
Drury and his family reside in Greenwich, Connecticut. In the late 2000s, Drury, along with three friends his youth baseball days, purchased Colony Grill in Stamford, a pizza tavern established in 1935.  Since the purchase, the group has opened four more locations throughout southwestern Connecticut and New York.  
In September 2015, the New York Rangers named Drury their Director of Player Development. In September 2016, Drury was promoted by the Rangers to Assistant General Manager.  The next season, he was also assigned to be the General Manager of their American Hockey League affiliate, the Hartford Wolf Pack. 
In March 2019, the Rangers signed Drury to a contract extension as Assistant General Manager. On February 5, 2021, Drury was promoted to Associate General Manager.
On May 5, 2021, following the sudden dismissal two key executives from the team's front office, Drury was promoted to President and General Manager of the New York Rangers.  
"I've really enjoyed being back with the organization and in the game. Every moment I'm learning something new. It's just that kind of role where I can't wait till tomorrow."