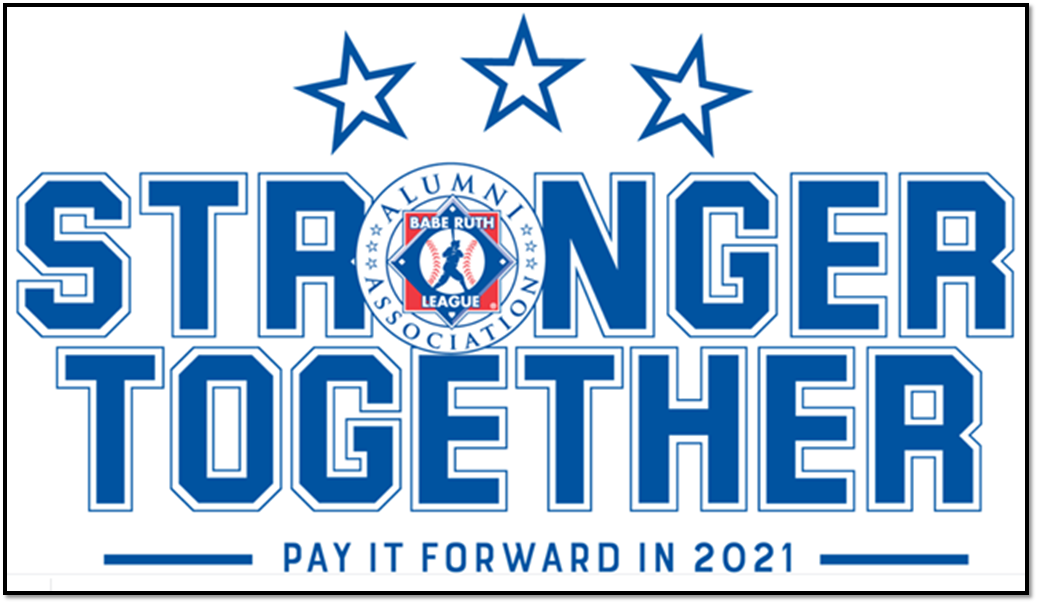 Thousands of dreams are born on Babe Ruth League fields each year where the true spirit of the game is seen through the eyes of a child. It is on these Babe Ruth League fields where memories are made, lifelong friendships are forged, and many valuable life lessons are learned.
 
It's been a trying year. Families are experiencing financial challenges due to the current slowing economy. As a result, many kids may not have the opportunity to get back out on the field of play in 2021.
 
During this season of giving, we are turning to you to help support our new "STRONGER TOGETHER" PAY IT FORWARD IN 2021 CAMPAIGN. The goal of this campaign is to raise $1,000,000 by February 28, 2021. All proceeds will be used to assist kids/leagues in need with registration costs and/or operating expenses for the 2021 season.
 
To accomplish this objective, we are asking each member of the Babe Ruth League Family, whether a parent, family member, volunteer, league official, or friend of the program, to  contribute just $5. (Of course, any amount – lower or higher – will be greatly appreciated.)
 
To make an online donation, simply click here. If you prefer, a check made payable to the Babe Ruth League Alumni Association can be mailed to Babe Ruth League, Inc., 1670 Whitehorse-Mercerville Road, Hamilton, NJ 08619. ATTN: Alumni Association.
 
Now more than ever, we need each other, and your financial gift will have an immediate impact. Our collective efforts will help us solve the challenges being felt in communities throughout our nation. We are thankful for any financial assistance you can extend to help our Babe Ruth leagues and participants get back out on the field. 

We Are Stronger Together.