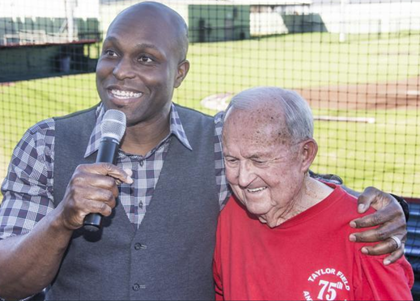 With a tear in our eye and a hole in our hearts, Babe Ruth League bids farewell to a legend, James Marion "Jim" Hill, Jr. (White Hall, Arkansas), who passed away on Tuesday, October 1, 2019, at the age of 87. 
Jim Hill had many loves in his life, especially his family and friends, Babe Ruth League and its participants, and Taylor Field.
Jim began his affiliation with the Babe Ruth program in 1958, serving in various positions for the Pine Bluff, Arkansas Jr. Babe Ruth League, including League President, Vice President, Board Member and Umpire.
In addition to serving at the local league level, Hill held the positions of Southwest Assistant Regional Commissioner and Babe Ruth League National Umpire Consultant for several years.  In 1983, he was elected to the Babe Ruth League Board of Directors as an At-Large Member, a position he held until his passing. 
Jim worked many Babe Ruth League District, State, Regional and World Series as Tournament Director, Task Force Member or Groundskeeper. 
Hill, an accomplished official for more than 35 years, officiated many sports, including baseball, basketball, and football throughout Arkansas.  His umpiring expertise was used for officiating at 14 Babe Ruth World Series covering all age levels.
In 2010, Jim was inducted into the Babe Ruth League, Inc. International Hall of Fame; in 2006, he was inducted into the Southwest Regional Hall of Fame, and was one of the first three members to be put in the Pine Bluff, Jr. Babe Ruth Hall of Fame in 1998.  In 2015, Hill was awarded the Lefty Gomez Volunteer of the Year Award, the highest honor bestowed to a Babe Ruth League Volunteer.  In 2003, he was named to the AAA Hall of Fame. 
Jim's full-time hobby and passion was taking care of Taylor Field, which is an old WPA ballpark that has attracted six Babe Ruth World Series, a Babe Ruth Girls' Softball World Series, a Class-A Pro Baseball Club and a 1995 NAABT Tournament, which was telecast on ESPN. 
In his long history at Taylor Field, Hill was able to see several great players who called the field home.  No doubt, one of the best players was Torii Hunter.  Hill often spoke highly of Minnesota Twins Hall of Famer Torii Hunter, and Hunter returned the love at a special remembrance ceremony for Hill. 
The following excerpt is taken from The Pine Bluff Commercial, "Torii Hunter Remembers Jim Hill" that was posted on October 3, 2019:    
"You are talking about somebody that he was the last of that baseball history in Pine Bluff for me," said Hunter. "For me, I was a five year old kid who went to watch his uncle play for Pine Bluff National Bank at Taylor Field, and (Hill) would give me a dollar for every foul ball that I retrieved. I tried to recover all of the foul balls that I could so I could get that money. Then later on I ended up playing in the league, and he was the umpire. I used to tell him I thought he was a horrible umpire because he would call strikes. I would tell him 'Hey man, that was a ball!' and he would say 'I just call them like I see them, Torii.' But he was there for me all of the time. He was a good umpire, but he was tough. That outside corner, he gave it all of the time."
Hunter remembers when he was drafted into Major League Baseball that Hill prepared Taylor Field for him to take batting practice before he left Pine Bluff.
"When I got drafted he would have the field ready for me to come hit," said Hunter. "I was like 'Wow, this guy is amazing!' With me playing pro ball anytime he needed help I would always try to help him, or find someone who could help him as much as I could. I always answered his phone calls, we always talked on the phone, and we always had a relationship. I'm 44 now, so it has been almost 40 years that I have known him."
Hunter said that he believes Hill leaves a legacy not too many others will be able to leave in Pine Bluff.
"We would get together so I could speak to kids and talk with them about their personal lives. He was always the one to step up and help someone grow in life," Hunter said. "No one can say anything bad about him. He was always trying to help someone reach their full potential and reach the next level in life weather it was baseball, or something else in life. The legacy he left in Pine Bluff is a legacy that not too many people will leave like he did."
Hunter spoke about all of the people that Hill would mentor.
"He had so many people he would mentor," said Hunter. "I feel like you haven't done anything in life unless you have left a legacy for your family name, and have mentee's. Not mentors, but mentee's. Someone you mentor under your to help them grow in life. He had many mentee's and he left a legacy for his family. For him I gave him flowers while he was here, and I'm going to give him flowers now that he is gone. There are many people who benefitted from how he lived his life."
When Hill needed money for projects, Hunter knew he needed every dime he asked for, and he wasn't going to abuse it in any way.
"He wasn't going to go gamble it away, he wasn't going to go blow it on anything or use it for anything in his personal life. He was going to put everything towards that baseball field," Hunter said. "If he needed lights, all of it was going towards the lights. If he wanted to fix up the skybox, all of it was going towards the skybox, the bleachers, paint, and the field. I knew that, and he was adamant about showing us what he did with (the money). After a while I just told him if he needed something to just call me. He didn't need much. He would call maybe once per year, and I never turned him down because he did what he said he was going to do."
Hunter said that no one was better at preparing a baseball field than Jim Hill.
"If there was one thing he could do it was to prepare a field and make it game ready," said Hunter. "I don't know of anybody who is going to put the time and the love into manicuring baseball fields and taking care of baseball fields like this man. You talk about baseball history and the love of the game; we lost a good one. We lost almost our last piece of saving baseball in Pine Bluff. Who is going to take that role? Who is going to take that lead? Who is going to put that together? I don't know too many people. I don't know another Jim Hill."
Hunter said that Hill had a love for people regardless of the background they came from.
"This is a piece of baseball history in Pine Bluff, and we have lost a good one. Not just in baseball, but we have lost a good man," Hunter said. "When someone can talk about you in a good light the way everyone talks about him, it has got to be true. All of these people say pretty much the same thing. We have lost a good one. I love that man. He didn't care what background you came from; he didn't care what color you were; he was willing to help you. I don't care who you were, what you were, how poor you were, your race, or where you were from, it didn't matter. He loved kids and to get the most out of kids. You could hear it in his voice."
Hunter also said that many people talk about what needs to be done, but Jim Hill would go out and get it done.
"There are a lot of people who will talk about what needs to be done in Pine Bluff, but he was the one who was doing it," Hunter said. "He wasn't talking, he was getting it done. People talk all day, but some people rarely go out and do what they say they are going to do. Jim Hill did what he said he was going to do. He was one of a kind. I love him."
Jim Hill was an amazing and caring individual, and one of those volunteers who stood head and shoulders above the rest.  Babe Ruth League is extremely fortunate to have had Jim Hill a member of its team.  He was a hard-working, tireless volunteer who gave so much back to the Babe Ruth League community.  His memory will live on in all of us.  Jim Hill was Babe Ruth Royalty and is truly a Legend.