Anthony Becht, a graduate of the Upper Darby-Drexel Hill, Pennsylvania Babe Ruth League, is a former American football tight end.  He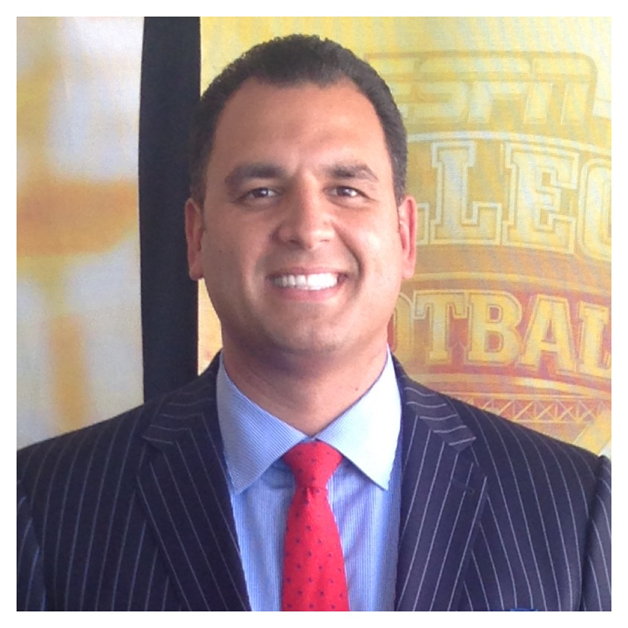 was drafted by the New York Jets 27th overall in the 2000 NFL Draft.  He played college football at West Virginia.  He most recently played for the Kansas City Chiefs.  Becht was also a member of the Tampa Bay Buccaneers, St. Louis Rams, and Arizona Cardinals. From 2000 to 2010, he played in 152 consecutive games, which at the time was third amongst all NFL offensive players – behind Brett Favre and Peyton Manning.
Becht, a graduate of Monsignor Bonner High School in Drexel Hill, Pennsylvania, was 6'5" and 205 pounds coming out of high school.  He was an all-city, all-Catholic conference, and all-county selection as a senior after recording 47 receptions for 693 yards.  He accepted a football scholarship from West Virginia.
At the end of Becht's college career, he ranked second among tight ends at the school with 83 catches for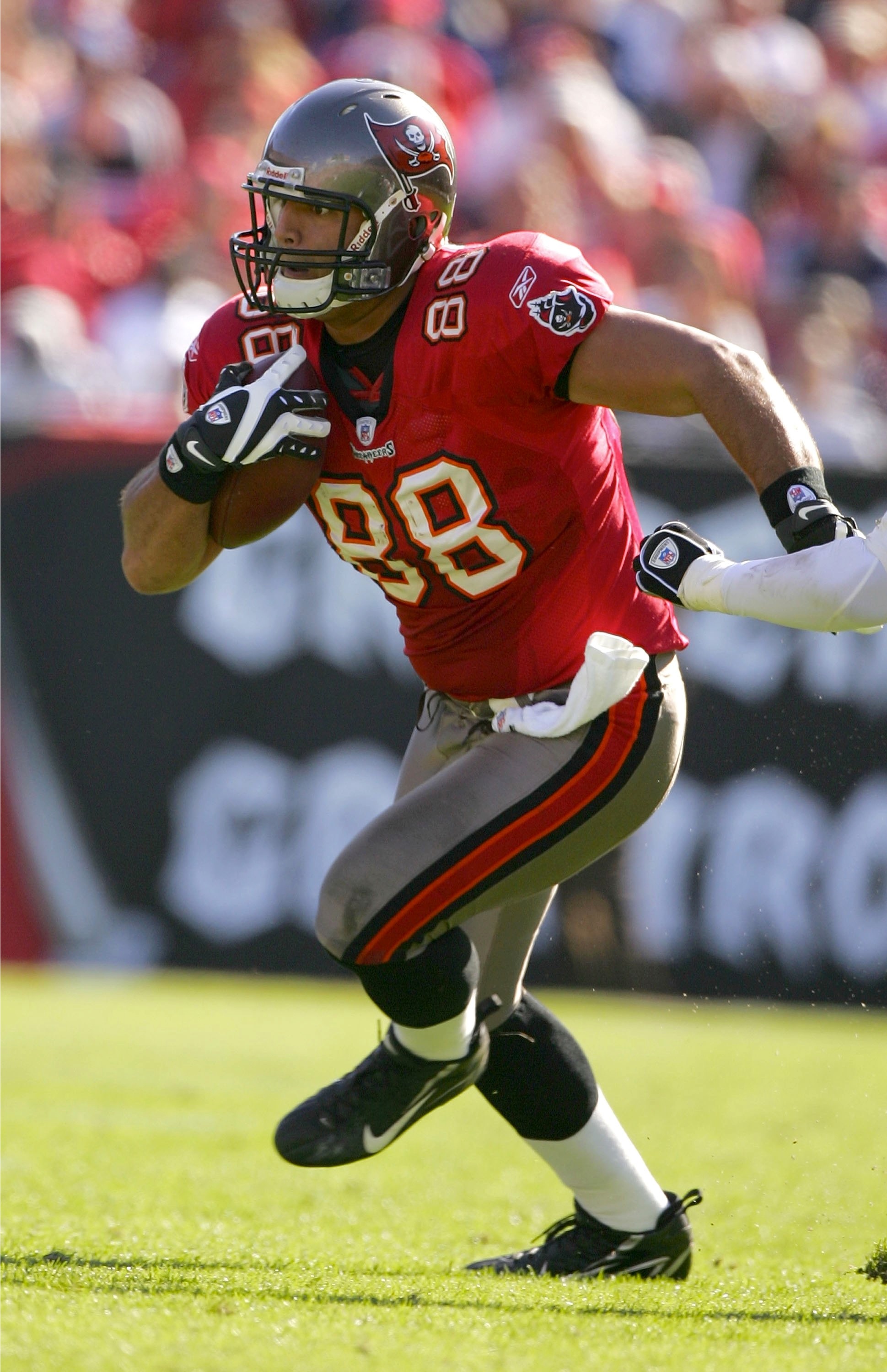 1,173 yards, a 14.1 average of yards per catch, and 10 touchdowns.  Becht was an honorable mention for All-American as a senior and was named second-team All-Big East as a junior and senior, along with being team captain and MVP.  He graduated with a Bachelor's degree in Marketing.
Currently, Anthony Becht serves as a College Football Analyst for ESPN and the co-host of the Pre and Postgame shows on the Tampa Bay Buccaneers Radio Network. He also travels the country teaching the youth about football and life at his football camps.
Babe Ruth League was able to catch up with Anthony Becht, who was more than happy to answer questions about his days playing Babe Ruth Baseball, his love of sports and his career as a football player.
When did you first start playing baseball? Football?
I started playing baseball when I was six years old. Loved the game. Baseball was my favorite sport for the longest time. I started playing football in the 5th grade. I never played before and I was absolute scared to death of the physicality of it. The one thing I was good at was speed. Running away from contact was my biggest asset ha-ha.
What positions did you play?
In baseball, I played catcher. I was a huge Tony Pena fan and I just loved getting my hands on the baseball every pitch. With football, I moved around quite a bit. I started out as a running back in grade school. When I went to high school, I played WR in my early years until permanently moving to tight end my junior year.
Do you think you benefited from playing multiple sports?
Absolutely. I played three sports – basketball, baseball and football.  At the youth football camps I have been conducting in Florida for the past 10 years, I tell the kids they should play as many sports as they can. Living in Florida, it's very easy for kids to latch on to one sport and play it year round. I insist that my son must play more than one sport. It keeps the thrill of playing each season fresh and he won't burn out from playing year round.
Who was the most influential figure in your youth sports career?
Honestly every coach that I was engaged with helped me along the way. Even some of the coaches that I might not have been fond of taught me something. The biggest thing for me was closing my mouth, opening my ears and becoming a coachable player. It definitely went a long way.
Who was your favorite athlete as a kid and why?
My favorite baseball player was Will "The Thrill" Clark. I just thought he brought it to the table every game and I remember collecting every one of his baseball cards. For football, I was an Eagles fan obviously being from the Philadelphia area. I didn't really have a favorite football player as a kid, just a team to root for in the Eagles.
Were there any community service activities you did as a kid?
I tried to always find time for others when I was younger. Nothing specific, but I enjoyed helping my parents, teachers and friends. I truly believe that youth should give back and help others. It helps build character and humbles a lot of kids who might take certain things for granted.
What memories do you have of the Babe Ruth World Series?
Wow… what a fun week of baseball.  I still brag about going to the Babe Ruth World Series. It was such an accomplishment for me personally because of the road to get there and the sacrifices that were made as far as practices and travel. I remember coming into the World Series on a hot streak.  I literally was hitting everything. The pitching from some of the other teams was phenomenal, and hitting the ball was a struggle. Would've loved to have won the title but runner up was pretty special.
Describe your recruiting process. Were you recruited for any other sports?
Were you already focused on football versus baseball?
I played multiple sports as I said and I'm glad I did. I started gravitating more to football and basketball in high school as I had some big growth spurts. By my senior year I knew that football was my sport of choice. I had multiple colleges recruit me. Most of the Division I schools offered me to walk-on and the smaller colleges wouldn't pull the trigger on a scholarship. West Virginia came calling late in the recruiting process. Literally 1 week before signing. They told me that the tight end they wanted elected to attend another college and that they had one scholarship left to offer to a "project player". I instantly said sign me up! The rest is history. I worked hard over those next five years and it ultimately paid off when I was drafted in the first round of the NFL Draft in 2000.
How did it feel being drafted 27th overall in the NFL Draft after playing at West Virginia University?
It felt like one of the greatest accomplishments of my life. Going to West Virginia and no one expecting me to even play there…...all the hard work… truly paid off and my dreams came true. It was a great experience for my family and me.
If you could do it all over again, would you take the baseball or football route?
Interesting question. I truly believe that I would've accomplished great things with baseball. I just felt that my passion was moving away from the game and football was another avenue that I had to grasp on to. It goes back to playing multiple sports. I had options by doing that. I wouldn't change anything at all.
How did you first get involved in sports broadcasting?
After my tenth year in the NFL, I signed up for the NFL Broadcasting Boot camp at NFL Films in New Jersey. It was a four-day crash course in the industry and I made several great contacts while there. I knew that I wanted to stay around the game in some way and I thought the media would be a great route. With some hard work and luck I got an opportunity with ESPN. Working for ESPN for the past 2 ½ years has been great. Just like my days in high school and college where I kept my head down and kept grinding to be great, I now do the same with my media ventures. I'll work as hard as it takes be one of the best, and I'm very optimistic with my start.
What advice would you give to the youth?
I would say enjoy your times as a kid. Have fun and embrace the friendships and relationships you develop while playing sports. Learn and soak in every bit of information you can.   Playing sports has played a major role in the person I am today. They've taught me many life lessons and provided me with instilled values that I draw upon every day to succeed in life.