The Babe Ruth program has changed the lives of millions of young athletes.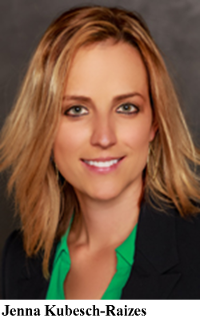 One such athlete is Jenna Kubesch-Raizes, a native of Weimar, Texas, a graduate of the Texas Tri-Counties Babe Ruth Softball League, where she received the opportunity to participate in many state and regional tournaments, as well as at several Babe Ruth Softball World Series, and a recipient of a Babe Ruth League scholarship in 2003.
Jenna transferred to the University of Memphis in the fall of 2005 after playing for two seasons at George College and State University.  An experienced and record-setting pitcher, she immediately became the starter for the Memphis Tigers in the team's first year of competition.  Jenna led Conference USA with two no-hitters in 2006; including a perfect game against Grambling State.  She recorded 30 appearances and led the team in earned run average (1.87), innings pitched (165), strikeouts (158), and shutouts (six).  For her play during the 2006 season, she was named to ESPN The Magazine Academic All-District IV First Team and was voted the team's Most Valuable Player.  As a senior, Jenna's streak of outstanding performances continued.  She threw a one-hitter against Tulsa in the C-USA Championship, surpassed the 200 strikeout mark during the season, set a school record with 24 wins and was nominated by the University for the NCAA Woman of the Year Award.  She finished her two-year career at Memphis with a 2.03 ERA, 401 strikeouts in 407.1 innings pitched and compiled a 37-23 record with four no-hitters. 
An honor student with an overall GPA of 3.94, Jenna was named to the 2007 Conference USA All-Academic Team, was selected for the second
time to the ESPN The Magazine Academic All-District IV First Team and received the 2007 C-USA Postgraduate Scholarship Award.  During her Tiger career, Jenna set and still holds five Tiger pitching records.


Jenna received her Bachelor of Arts in journalism and Master of Science in sports and leisure commerce degrees from the University of Memphis in 2006 and 2007. 
Following her softball career at Memphis, Jenna joined the staff of Learfield Sports and handled corporate marketing for the University of New
Hampshire.  She also spent a year serving as an event and sponsorship coordinator for CHaD, the Children's Hospital at Dartmouth-Hitchcock and two years as the head softball coach at Portsmouth High School.  She is currently employed as the Senior Vice President & Assistant General Manager of the New Hampshire Fisher Cats, the AA baseball affiliate of the Toronto Blue Jays.  Jenna still serves on the Friends of CHaD Board and coaches youth softball clinics throughout the state.
 
Jenna was inducted into the Anfernee "Penny" Hardaway/University of Memphis Athletic Hall of Fame in January of 2014.
Jenna resides in Portsmouth, New Hampshire, with her husband Charley and son Ryder, who was born on Opening Day of the Fisher Cats 2014 season.
We were able to catch up with Jenna, who was more than happy to answer our questions about her days playing Babe Ruth Softball and how this experience and the people she met along the way has changed her life.
---
When did you first start playing softball?
Jenna:    At five-years-old, I played t-ball and switched to softball around the age of 8.
What positions did you play?
Jenna:    I was the tallest, so first base until Coach Dad decided he needed more pitchers.  I pitched, played first base and shortstop through high school and played third base when not pitching in my first year of college.
Did you play any other sports?  If so, what influence did those other sports have on you?
Jenna:    I played volleyball, which kept me quick on my feet and helped improve my softball game. 
You were the first player to ever win the Most Outstanding Player Award in back to back Babe Ruth World Series (2001-02).  Did you know that at the time?
Jenna:    I didn't know that.

What memories do you have of those World Series?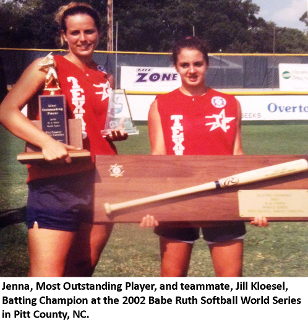 Jenna:    My best memories revolve around my host families.  I've seen my host families from all three of the World Series in which I participated multiple times over the years.  My family is still very close to a couple of the regional directors of the past – Bobby Neveaux and Sonny Groom.  Some random memories I have include the "It's World Series Time" song from 2000, the food in Abbeville, Louisiana (amazing), and the field that we played on in North Carolina – it was awesome that it used to be a baseball field.  (While I was playing at the University of Memphis, we got to go back to play in Greenville, NC, vs. ECU!  It was awesome.)
Who was the most influential figure in your youth softball career?
Jenna:    My dad.  He was (and still is) a great coach and certainly paid his dues, too, as my catcher.  Looking back, the time we spent as a family at the softball field (my dad, mom and sister Kailey, also a Babe Ruth World Series champion) made for some of the best times despite the weekly road trips and long practices.
Who was your favorite athlete as a kid and why?
Jenna:    Jeff Bagwell – he played first base for the Houston Astros and was a "Killer B."  They were my favorite team!
Were there any community service activities you did as a kid?
Jenna:    Weimar, Texas is small, less than 2,000 people.  So in terms of "community service", it was really more about pitching in to make our small town great.  We always worked to get the fields ready to play, volunteered for our church picnics, parochial school fundraisers and youth team fundraisers.
You were inducted into the University of Memphis Hall of Fame.  Tell us about your softball career at Memphis.
Jenna:    I owe so much to the University of Memphis and its administrators for taking a chance on softball and starting the program in the fall of 2005.  Without the folks there, I wouldn't have been able to realize my dream of playing at a Division I level, and they treated our team better than I could have imagined in terms of support staff, marketing efforts, and resources for both the field and the classroom.  My softball career there was ultimately successful because my coaches allowed me to grow as an athlete and as a pitcher.  I became a strong player while I was there, and graduated when I felt like I was at a peak in terms of speed, confidence and movement on my pitches.  I look back and can really be thankful for my time spent at Memphis because my coaches and administrators helped me start my professional career on the right foot, too, by encouraging me in my coursework.  I was able to graduate with a 3.941 GPA in my undergraduate studies in Journalism and nearly finish my master's degree during my four-year playing career, too.

You are now the Senior Vice President & Assistant General Manager of the New Hampshire Fisher Cats.  What steps did you take to reach this level in your career?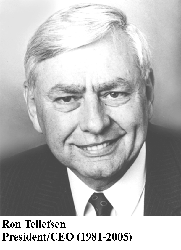 Jenna:    Honestly, I met Mr. Ron Tellefsen (the late President/CEO of BRL) and Ms. Jaime Horn (the late BRL Softball Commissioner) at the North Carolina World Series.  During conversation, I remember asking them how they got to their jobs – I was in awe of their jobs and realized that "working in baseball" was seemingly the perfect plan for me.  Their words of wisdom really stuck with me – if you take the life lessons and positives learned while playing the game and carry them with you as you progress in life, you can realize the dreams that began on the softball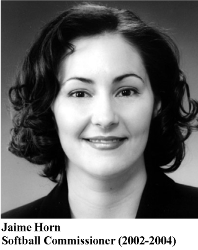 diamond.  Fast forward through two internships in the Cape Cod Baseball League, a coaching stint, a college internship and my first "real" job with Learfield Sports, many networking events, etc., I'm proud to be a part of the New Hampshire Fisher Cats.  We truly try to provide an affordable, first-class entertainment experience for families in our region, and it feels great to go home at night knowing that you made kids and adults smile through something as simple as a silly promotion between innings.
Do you have any advice to pass on to youth who want to become better softball players?
Jenna:    Practice.  It's the only way to get better.  And play Babe Ruth Softball, of course!
---
Playing Babe Ruth Baseball and Softball can be a very prominent part of the growth process for children.  Babe Ruth League prides itself on providing an outlet for kids that has helped them develop strong, clean, healthy bodies, minds and souls.  The concept of teamwork, of sacrificing individual needs to work together in seeking a common goal, is one of the great teaching points for children participating in the Babe Ruth League program.  In addition, the idea of working hard for a specific goal, of putting in the necessary time to be able to do a task well, is another great lesson for our participants.  And the concept of dealing with individual and/or group failure or the loss of game is also at the heart of what Babe Ruth League teaches our kids.  We have always believed that if we teach our youngsters to pick themselves up when the success they are seeking eludes them, if we can help them to understand the need to go to practice again and to try, try again, in spite of demonstrated lack of success, then we will be teaching them how to be successful adults. 
Ms. Jenna Kubesch-Raizes is a wonderful example of how the lessons you learn from participating in Babe Ruth League can help you succeed in life. 
In closing this article, we would like to share with you excerpts from Jenna's essay that helped earn her a Babe Ruth League scholarship in 2003.  It certainly demonstrates how participating in Babe Ruth Softball helped her prepare to meet the challenges of adolescence and adulthood.
Jenna wrote:
"While teaching me two-point turns and parallel parking techniques, my driver's education teacher, Mr. Tom Strickland, hinted that he wanted to start a Babe Ruth Softball division within the Texas Tri-Counties league.  I quickly explained that I was involved in ASA and UFA Softball, high school softball and Little League.  I did not have time to play Babe Ruth Softball too.  Thank goodness for persistent teachers.  I finally agreed to play.  Little did I know that the next three years to follow would be some of the best years of my life. 
Before I began playing Babe Ruth Softball, I had only traveled out of Texas once, and that was when I was four years old.  Since the day my Tri-County 16U softball team won its first state championship in Del Rio, Texas, Babe Ruth League, Inc. has provided me with the opportunities to travel to Louisiana, New Jersey and North Carolina.  While at the World Series in each of these states, I was able to visit Pennsylvania, New York City and Maryland.  It feels so great to know that my softball skills, combined with those of my teammates, have allowed me to see so many beautiful sites in the United States that I would have probably never seen otherwise.
I suppose that Dr. Seuss perfectly described Babe Ruth Softball when he titled one of his best books, Oh, the Places You'll Go, Oh, the People You'll Meet.  I will always be able to tell others about all of the places I have been because I play Babe Ruth Softball.  However, words will never do justice in describing all of the people I have met.
I have met numerous tournament officials, spectators and players from opposing teams, while playing Babe Ruth Softball.  I feel as though I have created a special bond with each new friend I make.  My host families, however, have become more than "friends".  Each is a new part of my family.
Each year my host families and I exchange Christmas gifts, birthday cards, funny emails and sometimes just short phone calls to talk about how our days have been going.  I have even traveled back to New Jersey twice to spend Christmas with my host family from the World Series in Millville.  Without the host family experience offered by Babe Ruth, I would not be the same person I am today.  My personality, friendliness and even my career goals reflect the attitudes and sincerity of each of my host families.
Babe Ruth Softball has greatly affected my life.  Not only have I developed into a better athlete, but I have developed into a better individual.  I know that in years to come I will still be telling others about my awesome experiences at each Babe Ruth Softball World Series.  I also know that I will forever treasure each memory from all of the places I have been and from all of the wonderful people I have met."