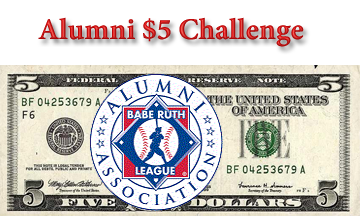 What can a $5 bill buy today?  Not much—perhaps a $5 foot-long, a few items off the fast-food dollar menu, a few lottery tickets?  Actually, the best way you can spend a $5 bill is when you contribute it to the Babe Ruth League Alumni Association. What it can pay for is priceless!
The Babe Ruth Alumni Association is challenging all Babe Ruth League volunteers - commissioners, league officials, managers, coaches, etc., to make a one-time donation of $5 to the Alumni Association. 
Babe Ruth League and the Alumni Association are about empowering youth to be the best they can be in a fun, competitive and educational environment. Our aim to provide youth with valuable life lessons to encourage their drive for excellence and personal achievement.
There are several obstacles today that are threatening the existence of community-based programs like Babe Ruth League, such as year-round travel ball and early specialization.  Babe Ruth leagues are struggling to fill rosters and are struggling to find the necessary operating funds. Less available leagues and teams could result in fewer kids being able to reap the benefits that come from participation in Babe Ruth League.
Growing up involved in Babe Ruth League and high school ball was always the right path to take to provide kids with the best opportunities to succeed in life.  Babe Ruth League set the foundation and high school set the stage. And we believe this is still the path to take!
If you believe the Babe Ruth League program offers life-changing moments for youth and volunteers and you would be proud to help carry on the tradition of Babe Ruth League to make sure the program is available for generations to come, please consider rising to this challenge.  Donate just $5 to the Babe Ruth Alumni Association. This will be the best $5 you will ever spend and the investment will provide priceless opportunities for all youth.
Please feel free to visit www.baberuthalumni.org to make an online donation or mail a check payable to the Babe Ruth League Alumni Association in the amount of $5 to 1670 Whitehorse-Mercerville Road, Hamilton, NJ 08619.
If you have any misconceptions about giving to the Babe Ruth League Alumni Association, please be advised of the following:
The Babe Ruth Alumni Association is a

separate group

dedicated to supporting the welfare of the Babe Ruth League program.
Contributions are never used to pay salaries. The Babe Ruth Alumni Association is strictly a

volunteer-driven

, non-profit 501(c) (3) Organization. 
All charitable donations go to where the

need is greatest

- for example, to support players, teams and leagues that otherwise would be unable to participate because of lack of funding or due to catastrophic loss and to support special initiatives, programs and projects that advance the general wellbeing of youth - and to

donor-designated causes

, such as scholarships and endowments, to honor or remember an individual, to support a specific individual, team or league, etc.
In order to serve all Babe Ruth League Alumni and be a more welcoming association, the Alumni Association does not charge membership dues. 
I want to thank each of you for your involvement with Babe Ruth League, whether as a participant, parent, and/or volunteer at the local league, district, state or regional level.  Because of your involvement, we have produced many graduates who have been successful in their chosen path.
And if you are not already a member, please consider joining the Alumni Association.  Membership is free and the benefits are plenty!
Mark A. Watkins
Chairman
Babe Ruth League Alumni Association