Babe Ruth grads care about the communities where they lived and played.  And when tragedy strikes home, they respond.
Boston Red Sox pitcher Matt Barnes, a graduate of the Bethel, Connecticut, Babe Ruth League, has helped provide  a diversion to the Sandy Hook tragedy, where 20 children and six adults were gunned down in a school rampage in December of 2012, by hosting annual clinics at the Newtown Youth Academy for area youth baseball players.
Having grown up down the street from Sandy Hook, when the shooting occurred in 2012, Matt immediately knew he had to do something to ease the pain of his community.  "I wanted to take a few hours to help the kids forget about what was going on, to use baseball as an outlet to escape everything."
Barnes established a one-day clinic in December of 2013 during the town's "26 days of Kindness" when members of the Newtown community come together to participate in charitable endeavors in memory of those who they lost and to continue to help their community heal as one.
Over the years, Barnes has invited local Major and Minor Leaguers, as well as collegiate players, with all roots to the area, to join him, such as free agent Craig Breslow, Astros Outfielder George Springer and New York Giant second baseman Joe Panik (a graduate of the East Fishkill, New York Babe Ruth League).
"Anytime we have a chance to spend some time in a community that is still healing, we have an obligation to do whatever is in our power to help people return to a sense of normalcy," said Breslow.  "It's important not to forget – to have sustained efforts in places like Sandy Hook, where it will take time to heal."
The one-day clinic is divided into two, hour and a half sessions.  The first session features children ages 7-12 and the second session hosts 12-15 year olds.  Each session consists of a rotation of basic skills training and concludes with a player meet-and-greet, as well as an autograph session.
Matt, who pitched out of the Red Sox bullpen in 2016, just hosted another free clinic for Newtown Babe Ruth Baseball.
"He has a passion for giving back," said Joe Augustine, Vice President of the Newtown Babe Ruth League.  "And the clinic is always at full capacity," Augustine added.
 "It's such a tragic thing, and it hit that area very hard," Barnes said. "We try to bring something that's fun for the kids there ... I know programs like this meant a lot to me at that age."
The 6-foot, 4-inch right-hander, who attended the University of Connecticut, is the right kind of role model for the town's youth, Augustine said.  "It's fortunate that we're able to have an experienced major league player for the kids," Augustine said. "Here is a kid just like them who grew up in the same area and worked hard and excelled to the top."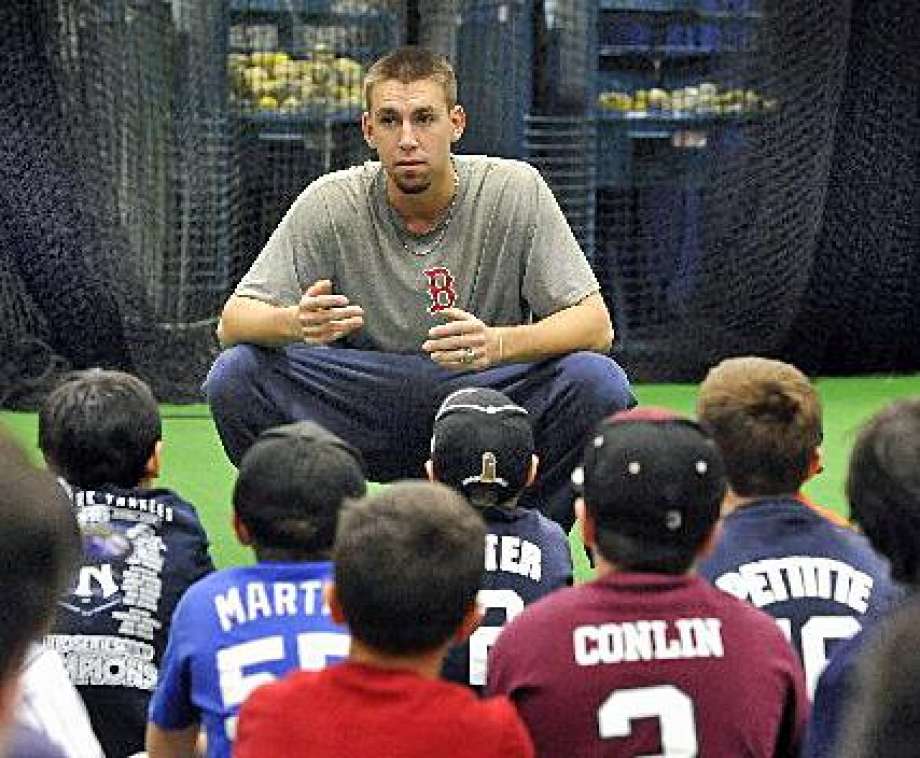 Barnes pitched in 60 games for Boston this season, including a playoff game.
He hopes to bring other MLB players with Connecticut resumes with him in the future to Newtown, including Bobby Valentine, Mike Olt, Eric Campbell, Evan and Troy Schribner. 
"He is genuine and very nice," Augustine said. "It's unfortunate that the tragedy had to occur for this to happen, but he is fantastic with the kids."
Babe Ruth League and the Alumni Association tip our caps to Matt Barnes and everyone else involved in their kindness in providing such a wonderful experience for the youth of Newton.