Thank you to Vernona Gomez, daughter of the late Yankee-great and former Babe Ruth League Board Member Lefty Gomez, for sharing the following story with us.  Born into baseball royalty, Vernona has many stories about the times her parents, Lefty and June, spent with The Babe.
On July 9th, at Fenway Park, where Babe Ruth began his illustrious career,  the Boston Red Sox celebrated the upcoming 100th birthday of Babe's daughter, Julia Ruth Stevens. Donning an official team jersey emblazoned 'Ruth 100' in red, Julia threw out the ceremonial first pitch prior to their game with Tampa Bay.  "She's lost a lot off her breaking ball," her son, Tom Stevens said, " It's more like a knuckleball now; it just floats."
A dip in the ball's velocity didn't matter to the Fenway fans.  They gave Julia a thunderous, standing ovation.
''I feel wonderful." she told the crowds. "There are a lot of things that I love to do that I still do.  I still get around pretty good…only a little slower. "
A living link to long-ago diamonds, Julia is besieged by journalists and autograph seekers asking questions about the Babe. "I think people feel when they meet me they are touching a part of Daddy. I know it is really him they admire and it is a wonderful feeling for me to know they are connecting to a part of him through me." 
Tall, willowy and endlessly elegant, Julia appears ageless. She has warm brown eyes, speaks softly and is quick to laugh. In the center of her personality is an appreciation of the life she has lived as the daughter of the greatest ballplayer of all time. Reflecting on her relationship with Babe beyond the ball field, "I loved him," Julia will tell you. " I couldn't have had a better father."
Throughout her life, Julia has crisscrossed America encouraging boys and girls in their love of baseball and softball.  In doing so, she has continued the role as an Ambassador for the game begun by her mother, Claire Ruth, who loved kids and the fans as much as the Babe did.
"When Daddy died and Mother was all alone, it was making those trips with the Babe Ruth League for Youth Baseball and her appearances at the Old Timers Games at Yankee Stadium that kept  her going. There just wasn't any other team but the Yankees for Claire Ruth."
Fenway Park was just the beginning of the multiple celebrations marking Julia's 100th.  The congratulatory finale took place on July 16th in her hometown of Conway, New Hampshire where she officially became a centenarian. 
Family and friends came from far and near, the furthest point on the globe being Egypt. My point of departure was a bit closer, Southport, Connecticut. 
In Conway, the landscape was splashed with sunshine as we sat down to a catered luncheon and a film bio of Julia's life. Soon, it was time for a rousing chorus of Happy Birthday from the crowd and a champagne toast as Julia blew out all 100 candles on her cake and the photographers jockeyed for camera angles. Then, Tom surprised us by asking everyone to share the story of their connection to Julia and the Babe Ruth family. 
One by one, called up by name, he had us step up to the mike. Tom's idea of honoring Julia with personal vignettes was brilliant, but totally unexpected.  From the many startled expressions, mirroring my own, I guessed that Julia's friends were hastily riffling through reams of fond memories to find that one perfect anecdote before hearing their name called.  As family and friends began sharing their stories, I was happy to see I was way down somewhere in the middle of Tom's list, with time to settle back in my chair, and reflect on the interwoven tapestry of our two families.
My story would have to be a once-over-lightly rendition because Julia and the Ruth family enriched the lives of the Gomezes non-stop since the 1930s, when my Dad, Yankee pitcher,  Vernon 'Lefty' Gomez and Babe Ruth were teammates.
A raw rookie, at the 1930 spring training camp in St. Petersburg, Florida, Lefty first met Babe Ruth at the plate.
"Babe was the first guy in the box when I threw my first pitch," Lefty recalled.  "As I went into my high-kick windup,  veteran pitcher Herb Pennock strolled by the mound, 'Nothing but fastballs right down the pipe. If you hit the big guy, you're done!'"
Luckily Lefty didn't hit the big guy because coming up to the big leagues with the Yankees and having Babe as a teammate was one of the greatest moments of his life.
"Ruth was the most unique character I ever met," Lefty said. "On the ball field, he was a genius. As a pitcher and a hitter, there wasn't anything Babe couldn't do. He was the wow factor for the fans.
When Babe walked up to the plate to take his cuts at Yankee Stadium, or any park, Lefty recalled, the vendors quit selling hotdogs, the guards and ushers stood still in the stands. They were as quiet as the fans.  Even the players on the opposing team, leaned forward on the bench to get a good look at the Bambino. Everyone at the ballpark wanted to see Babe hit a homerun. The thrill of it. Everyone forgot what they were supposed to be doing when Babe stepped into the batter's box."
And after the games, Lefty added, "Babe visited dozens of hospitals because he loved children, not because he was looking for publicity. I knew plenty of hospitals that he went to that nobody knew about, which was the way he wanted it. I still remember seeing those little guys lying in their beds until they'd spot Babe.  All of a sudden, their faces would light up. Babe was probably the biggest kid of them all."
As I watched Julia listening intently to her friends in Conway, I remembered my dad coming home to regale us with stories about Babe. Lefty would share three historic moments in baseball history:  the 'Called Shot', the inaugural All-Star game, and the Ambassadorial Baseball tour of Japan.
In 1932, the Yankees clinched the American League pennant and won the World Series in a  4-game sweep of the Chicago Cubs.  It was Lefty's first World Series and Babe's tenth.  In New York, Lefty pitched and won Game 2.  Now, in Chicago at Wrigley Field,  for Game 3, Lefty and his teammates were on the bench when Babe hit his 'Called Shot', a 500 foot blast to centerfield, one of the most brazen and defiant gestures in baseball history. "You couldn't ask for a greater thrill than the 1932 World Series, " Lefty said.  "That was the Babe in all his glory."
In 1933, one week before FDR's presidential inauguration, Lefty married my mother, Broadway musical-comedy actress, June O'Dea.  They lived at the Ansonia Hotel, not far from the Ruth apartment on Riverside Drive, home to Babe and Claire and daughters, Julia and Dorothy. 
The Ruths entertained at home. As one of Babe's friends said, "Babe's fame was suffocating. If he put his nose out the door, people grabbed at him. He couldn't go anywhere really without being mobbed by fans."  When he and Claire had friends over for cocktails he answered the doorbell in his blue silk pajamas and smoking jacket, finding his tailored street clothes uncomfortable.  
On any given night during the week, if the Yankees were in town, Lefty and June were over at the Ruths's apartment, along with an eclectic group from showbiz, sports, business, and the media like writer Damon Runyon and cartoonist Chic Young of comic strip Blondie fame.  Dinner and drinks were served.  The 'house specialty' was Claire's crab cakes and Babe served a drink of six ounces of scotch or rye, one ice cube and a thimbleful of soda. Conversation was light with bantering laughter, or serious about what FDR and Congress were doing to ease the pain of the Depression rather than baseball.
My mother, June, recalled that "Lefty made Babe laugh. Zinged him with witty wisecracks, treating Babe like any other teammate and that's what Babe wanted. To be one of the boys, not an icon that other players couldn't relate to. So, if Lefty let off a crack, Babe laughed and waited for his chance to slap Lefty with one of his own.
"My Dad loved Lefty.  Always treated him like a son," recalled Dorothy, Babe's daughter.  "I've  known Lefty since I've been 9 years old. He always had a hug for me. Sometimes when Lefty dropped by our apartment he did his magic tricks for me and then we played hearts and gin -rummy before he talked to my Dad. "
Julia, a teenager, also entertained her friends at the Riverside apartment.  June recalled that Julia's  boyfriends  who came to visit received quite a sendoff from Babe when they left the Ruth apartment taking the elevator to the lobby. As the fellows walked past the doorman onto the sidewalk, Babe leaned over his balcony on the 15th floor and dropped a water balloon on the guy, calling back to us in the living room,  "Another lounge lizard comes to call," Lefty would shout. "My god, Babe. If it hits his head, there'll be a lawsuit." Babe just laughed."
In the thirties, with a season of day games and exhibition play, it was rare for the Yankees to have a scheduled day off.  Any time one of those off-days came up, the Ruths and the Gomezes dropped everything they were doing in the city and jumped into their cars and drove up to upstate New York to Christy Walsh's cottage on Lake Oscawanna. Christy was Babe's press agent and financial advisor. He rarely used his vacation home so he put the welcome mat out for Babe's family and his friends.
Both Julia's and Lefty's scrapbooks are filled with pages of black and white photos of everyone splashing around in the lake, fishing and canoeing on the crystal clear water.  After dinner and dessert at sunset, a rousing card game of Bridge followed. Gales of laughter punctuated the conversations as everyone tried to beat the next player with a toss of a card.
"The photos remind me of those wonderful times we all had together at the lake," Julia says. "Oh yeah, we had picnics up there. It was so much fun, laughing with one another. We really looked forward to those days."
There are snapshots of June and Claire on Lake Oscawanna, their hair flying in the wind, taken when Lefty was away on a Yankee road trip and June stayed the weekend with the Ruth's.
Lefty's last words to June as she jumped into the coupe for Christy's cottage and he ran for the train were: "Now, June, you just learned how to drive a car. For god's sake, don't take the motorboat across the Lake!"
Advice like that almost begs for defiance.  Not only did June and Claire take the brand-new motorboat out onto the Lake but they also raced it up and down, again and again. When they tired of the wind and the wake June asked, "How do we bring this boat to shore, Claire?" Not knowing how, they crashed the speed boat into the dock.
The boat owner, however, did know how to contact Lefty upon his return to Yankee Stadium. "Six hundred Depression-dollars shot to hell " Lefty said, "because June and Claire went for a spin on the lake!"
Recalling the escapade, Julia chuckled, "Those were the days!"
Back in Manhattan, during the baseball season, Lefty and June continued to live at the Ansonia Hotel, but the house they called 'Home' was a bungalow in Lexington, Massachusetts owned by June's family, smack dab in Red Sox country.  In town for a series with the Boston nine, Lefty and his teammates hopped into taxies after the games at Fenway Park and came out to the Oak Street bungalow for a get-together with steaks, lobsters and ping pong matches.  The party over, most of the revelers stayed overnight and Babe was the short-order chef at breakfast frying up ham and eggs with a side of pancakes. 
In July of '33, Babe, Lou Gehrig and Lefty were in Chicago for the inaugural All-Star game at Comiskey Park with American League manager, Connie Mack and John McGraw for the National League. In the third inning, Ruth stole the spotlight from Gehrig with a two-run home run and Gomez won the game for the American League. When asked by the press why he was effective against the National League, Lefty said,
"I had a great team behind me on every pitch."
A few weeks before the All-Star game, the Chicago World's Fair opened and June was already in town, on tour singing and dancing in a George Gershwin play.  Wanting to see the Fair and go west from New York before her parents, Julia very persuasively  convinced her father that although June was only four years older, she was the perfect 'chaperone' and got Babe to agree.  Julia would later tell me she was the 'perfect chaperone' because "June had so much vitality and she was fun to be with. She would do most anything. Oh yeah, she always would." And, Julia continued, "This was my senior year in high school and before the All-Stars arrived, I took a train out to Chicago and June met me there' Julia said. She was touring with Of Thee I Sing after its Broadway run and we had so much fun touring the Century of Progress exhibits. At the Streets of Paris concession on the Midway, we saw Sally Rand and her ostrich plumes dancing to Clair de Lune, her fans her only costume. June and I had a ball."
On October 20 of 1934, despite the ultra nationalistic winds of war blowing in from the Far East, Babe and Claire Ruth and Julia, recently graduated from high school, were aboard the Empress of Japan ocean liner when it sailed out of Vancouver to Hawaii enroute to Yokohama. Other passengers waving goodbye from the decks of the ship were the All-American All-Stars and their wives, including Lefty and June, Lou and Eleanor Gehrig,  manager Connie Mack and Bud Hillerich, founder of the Louisville Slugger Bat Company and his wife, Rosie. 
The 1934 Baseball Ambassadorial tour was underway and it would become the  catalyst for the formation of Japanese professional baseball.  Matsutaro Shoriki, a media mogul who owned the Yomiuri Shimbun, one of Japan's most widely read newspapers, sponsored the trip. Sportswriters Tsuneo Ikeda and Sotaro Suzuki wrote up the games and acted as interpreters.
Twenty-one games would be played: 18 in Japan, one in Shanghai and two in Manila. The thought of witnessing Babe Ruth bashing a homerun out of Tokyo's cavernous Meiji Park, something that had never been done, brought tears of joy to the eyes of ecstatic Japanese fans.
With the ships docking at Yokohama Bay, the All-Americans travelled by train to Tokyo. A throng of over 500,000 confetti throwing fans were waiting for Babe and the All-Americans motorcade through the city's  Ginza District with its fashionable stores, bars and cafes. Ruth's car was mobbed by the fans, all eager to get a close-up view of Babe, calling out to him as if greeting a  great dignitary and of course, Babe Ruth was a god…the God of Baseball.
Upon the completion of the 18 games in Japan, the Yomiuri Shimbun  awarded  three bronze vases for memorable at-bats and pitching.  Babe won two vases for his 408. batting average and 13 homeruns  and  Lefty won for pitching.
Most of the ballplayers and their wives then returned to the States, but a merry band of 7, the Ruths, Hillerichs and the Gomezes, decided strictly on impulse to head south to Java, Bali, and Sumatra and from there to continue west until they had circled the globe. 
At this point in my reverie, Tom called out, "Vernona Gomez, how 'bout telling us the story of your connection to the Babe Ruth family. " I stepped up to the mike, exchanged a smile with Julia that captured 86 years of family ties in a moment, and addressed the crowd at Julia Ruth's 100th Birthday.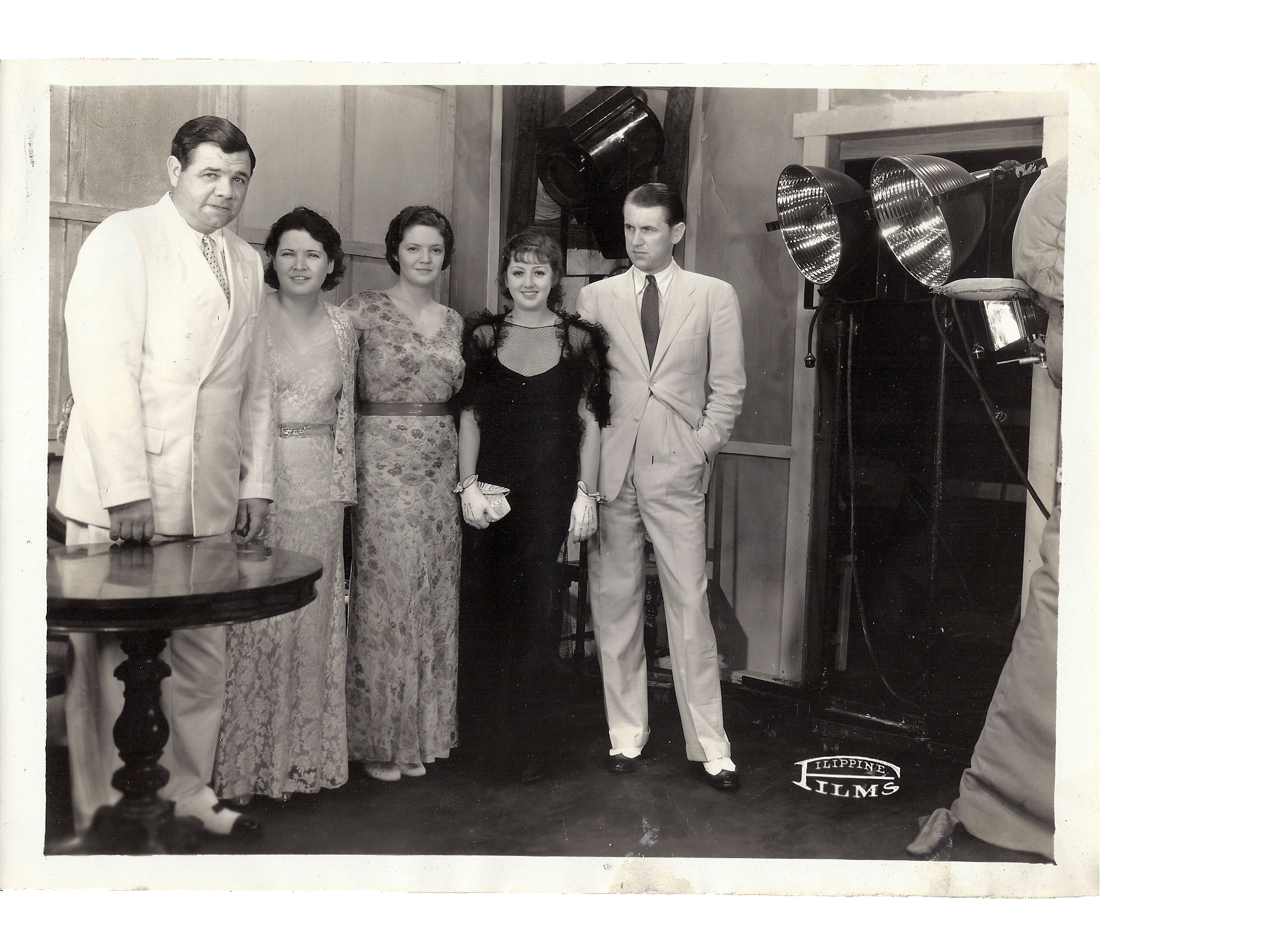 Quotes and material presented in Babe Ruth's Daughter Celebrates Her 100th Birthday, copyright by Vernona Gomez.
Accompanying photos credits for publication:
1935 All-American All-Star Tour: L-R  Babe, Claire, Julia Ruth June O'Dea & Lefty Gomez, courtesy of Vernona Gomez, owned by Vernon Lefty Gomez, LLC.
July 9, 2016 Julia Ruth holding 100 Ruth team jersey, Red Sox locker room, courtesy of Joseph Brill, friend of Julia's with written permission (with his photo credit)  to Vernona Gomez for publication with Babe Ruth's Daughter Celebrates Her 100th Birthday.